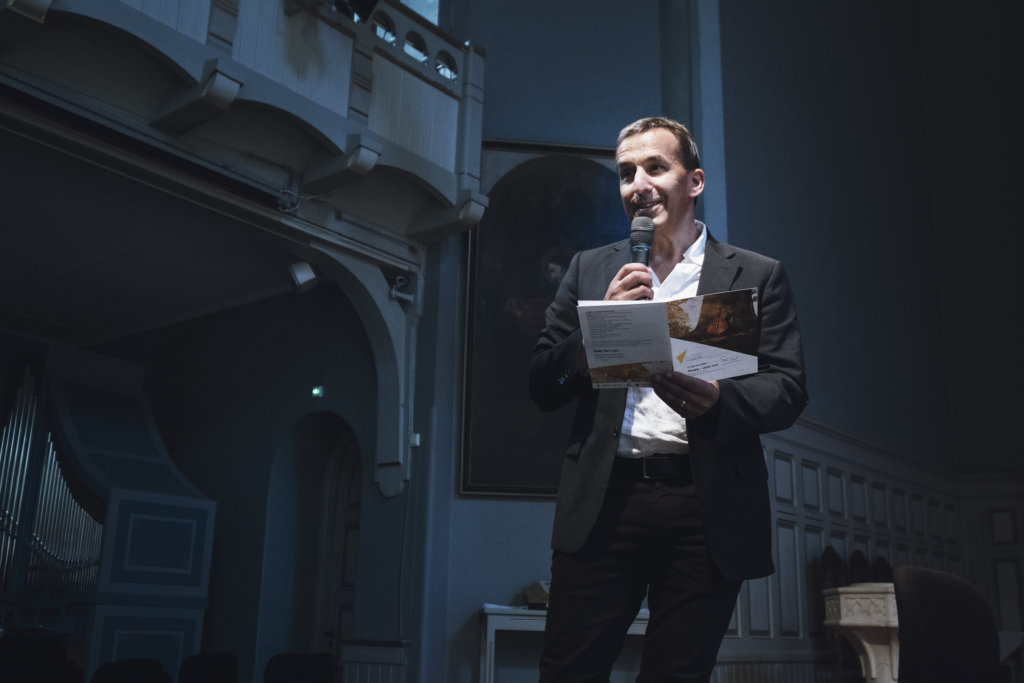 Sean Lewis – Festival director, recording producer and music fanatic!
To start with, thank you for the comments I received from some of my readers. It's really great to get this kind of feedback. It inspires for more, so here comes my music blog number two.
I'd like to focus on two of my recent recordings in this blog. First is an album with the Norwegian Wind Ensemble, playing a re-orchestration (for winds) of Beethoven's 3rd piano concerto, with soloist Christian Ihle Hadeland and conducted by Eivind Aadland. The second is an album of music by Danish composer Simon Steen-Andersen. Two albums that couldn't be more different, but are equally inspiring in their own way.
Simon Steen-Andersen – there's no one like him. Simon is well-known internationally in the contemporary music world. Straight up, I would go so far as to call him a genius. Take a look at this score: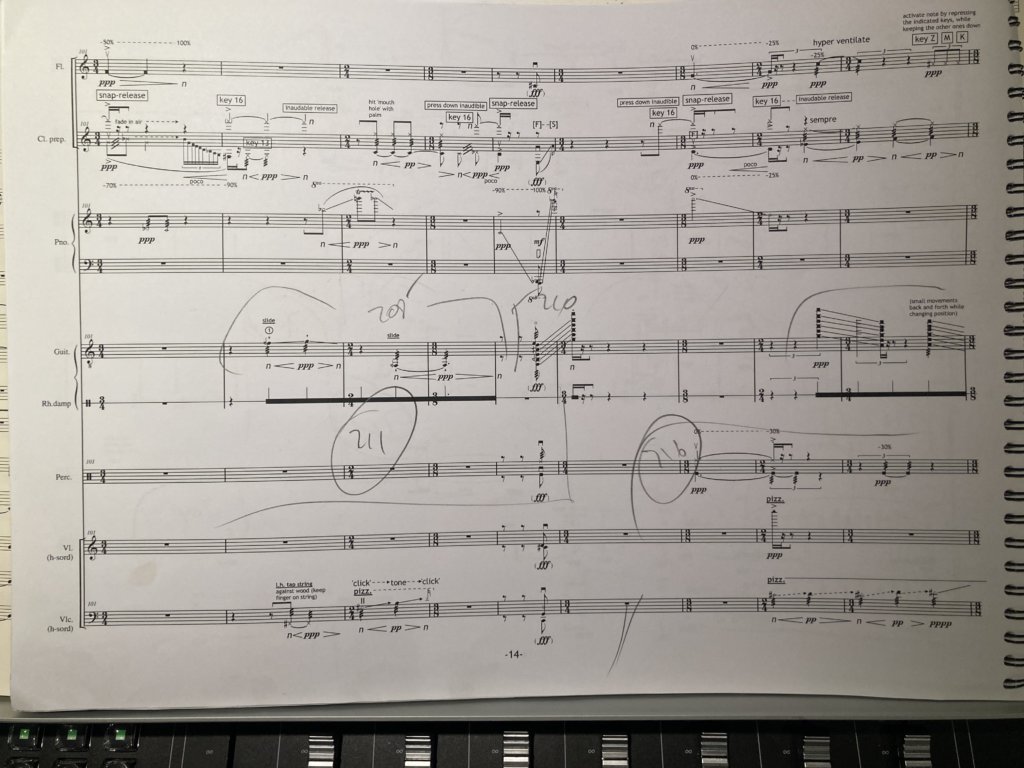 It is difficult to imagine, what he's written on paper would actually sound like, even for those who are, so to say, fluent in written music. We're talking about a whole universe of unthinkable sounds, textures, sonorities, effects, pitches, expressions. When we recorded this music, as producer I naturally heard at the start of the sessions, each instrument individually. A big part of my job is to place the microphones in such a way that captures all the individual sounds optimally. After a week or so of recording his music, I felt that the world of all imaginable sounds had expanded. The next stage is then the postproduction. First editing and then a '1st mix' is made. Usually I deliver the edited version to the artists and receive comments on mail, which I then address before sending the second version. As a rule this is usually pretty close to the final product. But in this case… finishing up this album was a totally different experience. Simon and I agreed that we should sit together and go through the details. The biggest challenge was to find a time where we both were available. (He's an incredibly in-demand composer who works all over the world). Finally we blocked some dates, he traveled from Berlin to my studio where we thereafter spent four days immersed in the material.
Here's the thing: it's limited what one can notate in a written score, and so many of the details he envisages are in Simon's head. As we went through the scores we made many tiny balance adjustments. More details came to life and the tapestry of his work became gradually more and more vivid. If you look at this sample of the score (zoom in!), he has many written instructions (eg. 'hit ´mouth hole´with palm', or 'press down inaudible key'). Needless to say, these are not standard instructions from a composer. These are just guides to the musicians and I remember him spending a lot of time explaining in the studio exactly what he was looking for you. With this kind of project you need musicians who are 110% on board, that have a genuine commitment to the composer's wishes, and a tireless energy to get it right. The final result is, in my mind, a 'tour de force', where the tiniest details are all linked to the whole. There are 'avant garde' composers who have written incredibly complex scores with lots of effects. With Simon's music, I would say that he writes absolutely nothing that is superfluous. One tiny detail, however subtle, if taken away, would lessen the music. I am baffled that this man can firstly just imagine the spectrum of sounds he envisages, and secondly is able to actually write what he hears for the players and instruments available. My hat goes off to this incredible composer, and of course to the magnificent musicians (Oslo Sinfonietta) who produced all the wonderful sounds.
So to the second CD. The Norwegian Wind Ensemble plays superbly. One of the players is trumpetist Stian Aareskjold who is no less than an absolute master at arranging music for the ensemble. It's basically a standard wind orchestra which in addition includes baroque and romantic brass instruments, one cello and double bass, unusually two sopranos saxophones plus whatever percussion is needed. Stian writes arrangements for exactly this group. So to the repertoire. Can anyone imagine Beethoven's third piano concerto written just for wind players? The solo part is played by Christian Ihle Hadland. Those of you who have heard Christian playing, are lucky. Everything he does is no less than magical. It's like he sprinkles gold dust on whatever music he's playing. I asked him before we started recording if he likes the arrangement that Stian had written. He just smiled and said 'I don't miss the strings for a second'. It's some statement, I mean we're talking about Beethoven! The week of recording was a pure joy for me. The danger of arrangements can be that one listens more to the instrumentation than the music. This is not the case here thanks to Stian´s masterful orchestration. I too do not miss the strings for a second, and I've heard it many times.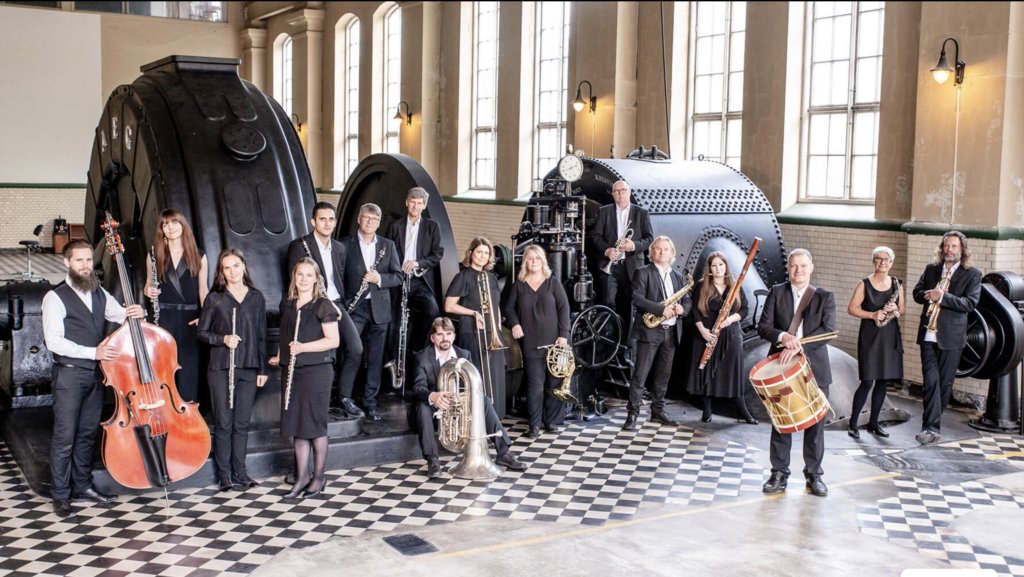 The other piece on this album is Haydn´s symphony no.44. Again just a magnificent tapestry of wind 'voices'. I think the saxophones deserve a special mention. They can often sound quite loud in ensembles, but here with Stian´s craft full writing, and of course excellent playing, he just blends and colours textures beautifully. Another interesting detail, Stian orchestrates the upper register with two piccolos and no flutes. A very conscious and skilled choice. The tiny piccolos have their own character and fit so perfectly into the overall sonority of the band. In the slow movement of the Haydn, two piccolos play in unison. It's so delicate and so perfectly in tune (that's not easy!). It gives such a tender character to the music. Well, do check out this recording when it comes out.
Both albums are scheduled to be released in spring 2023. Steen-Andersen on DaCapo Records; Norwegian Wind Ensemble on Simax.
I hadn't planned for this blog to be so long, but that's how it is – music carries you. As in my first blog, to sign off, here's a couple of pieces of music that I love. (The recordings I've written about here are not included, simply because they are not yet released.)
Schönberg´s Pelleas et Mellisande – here the last movement. Rich and romantic.
Mozart's Divertimento k.563 – here the 4th movement. The beauty of simplicity.
Puccinis La Fanciulla del West – the big tenor aria from act 3, with the unbeatable Jussi Björling.
(remember to click the little Spotify icon at top right to hear the full tracks)
Thanks for reading. Comments always welcomed!
Sean Lewis