A Taste of Indian Summer
launch tour, 25-28.feb 2022
We are happy to announce this year's festival theme, INDIAN SUMMER. 
Programmet for 2022-festivalen offentliggjør vi i forbindelse med en lanseringsturné i februar, hvor vi vil gi konserter i Tønsberg, Oslo, Hvidtsten og Skien.
The expression 'Indian Summer' refers to late summer days before Autumn hits fully in. The choice of this theme eludes to composers´ late works.
Neste års festival vil by på et stjernelag av internasjonale musikere. Blant dem er de som er med på lanseringsturnéen i februar:
Polina Leschenko on piano, Torleif Thedéen on cello, plus our two artists directors Cam Kjøll on violin and Lars Anders Tomter på bratsj. Sammen utgjør de en klaverkvartett. Her er programmet for turnéen:
PROGRAM:
Bach: fra Kunst der Fuge (contrapuntkus 8), arr. av Mozart
Mozart: Klaverkvartett i g-moll
Bach: slutten av Kunst der Fuge (som ender med tonene B A C H)
– Fagerlund: Scherzic  for viola and cello
– Dvorak: Klaverkvartett i Ess-dur
Fredag 25.02 | Teie hovedgå
rd, Tønsberg, kl.18:30
Lørdag 26.02 | Universitetets aula, Oslo, kl.14:00
Søndag 27.02 | Ramme gard, Hvidtsten 
, 
kl.15:00
Mandag 28.02 | Ibsenhuset, Skien, kl.19:00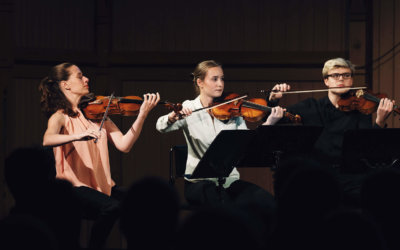 Formidlingsgleden til de unge musikerne i Fjord Festival Strings gjør det mulig å skjønne hvorfor de velger å vie sitt liv til musikken. Fra venstre: Lisa Ferschtman, Victoria Lewis og Gustav Rørman. (Foto: Nikolaj Lund)  Christoffer Sundqvist er en god forteller. Man...
Welcome to the 2022-festival in beautiful Sandefjord from 5. til 8. juli. Four new days with unforgettable music experiences.