Tickets
Billetter kjøpes elektronisk via Kjøp Billett-knappene på programsidene.
Prisene oppgitt er inkludert nettavgift.
Fra søndag 3. juli 2022 kan billetter også kjøpes på festivalkontoret ved Hotel Atlantic i Sandefjord (Jernbanealléen 33).
Ticket sales at the door start 1 hour before each concert.
Single Tickets
Sandefjord kirke og Kurbadet
Voksen: 370 kr
Ungdom (under 25år): 230 kr
Lunsjkonserter på dHuB
Alle billetter: 120 kr

Children under 12: Free entrance

Festivalpass 2022
Gives access to alle 13 konserter during the festival.
Festivalpass voksen: 3000 kr
Festivalpass ungdom (under 25 år): 1800 kr
Dagspass 2022
Gives access to all concerts on the given day. Since we have different numbers of concerts each day, this is reflected in the prices:
Dagspass tirsdag 5.7. (2 concerts) adult: 590 kr / youth (under age 25): 390 kr
Dagspass onsdag 6.7. og torsdag 7.7. (4 konserter pr. dag) voksen: 1100 kr / ungdom (under 25år): 750 kr
Day Passes fredag 8.7. (3 konserter) voksen: 790 kr / ungdom (under 25 år): 590 kr

Group Discounts
For groups of 8 or more to any one concert
Voksen: 335 kr
Youth (under age 25): 195 kr
Hotel and ticket packages
We offer competitive packages with hotel and tickets through our festival partner hotel, Clarion Collection Hotel Atlantic in Sandefjord.
The hotel is situated just 100 m from the main concert venue, Sandefjord Church.
Gift cards
Vi tilbyr nå gavekort til ulike beløp. En hyggelig måte å gi bort en stor opplevelse. Gavekortene er gyldige til august 2023 slik at de kan brukes til både 2022 og 2023 festivalene.
By Road
Sandefjord Church is located 4 km from the E18 motorway, exit Fv305 towards Haukerød. Parking capacity in the town is good and free parking up to an hour is available many places.
Train
VY (formerly NSB) runs trains services to Sandefjord station. The non-stop journey from Oslo takes 1h 45m. The station is situated 300m from the church.
Plane
Sandefjord Torp Airport (TRF) serves routes to many European cities. The airport is located 10 km from the town centre.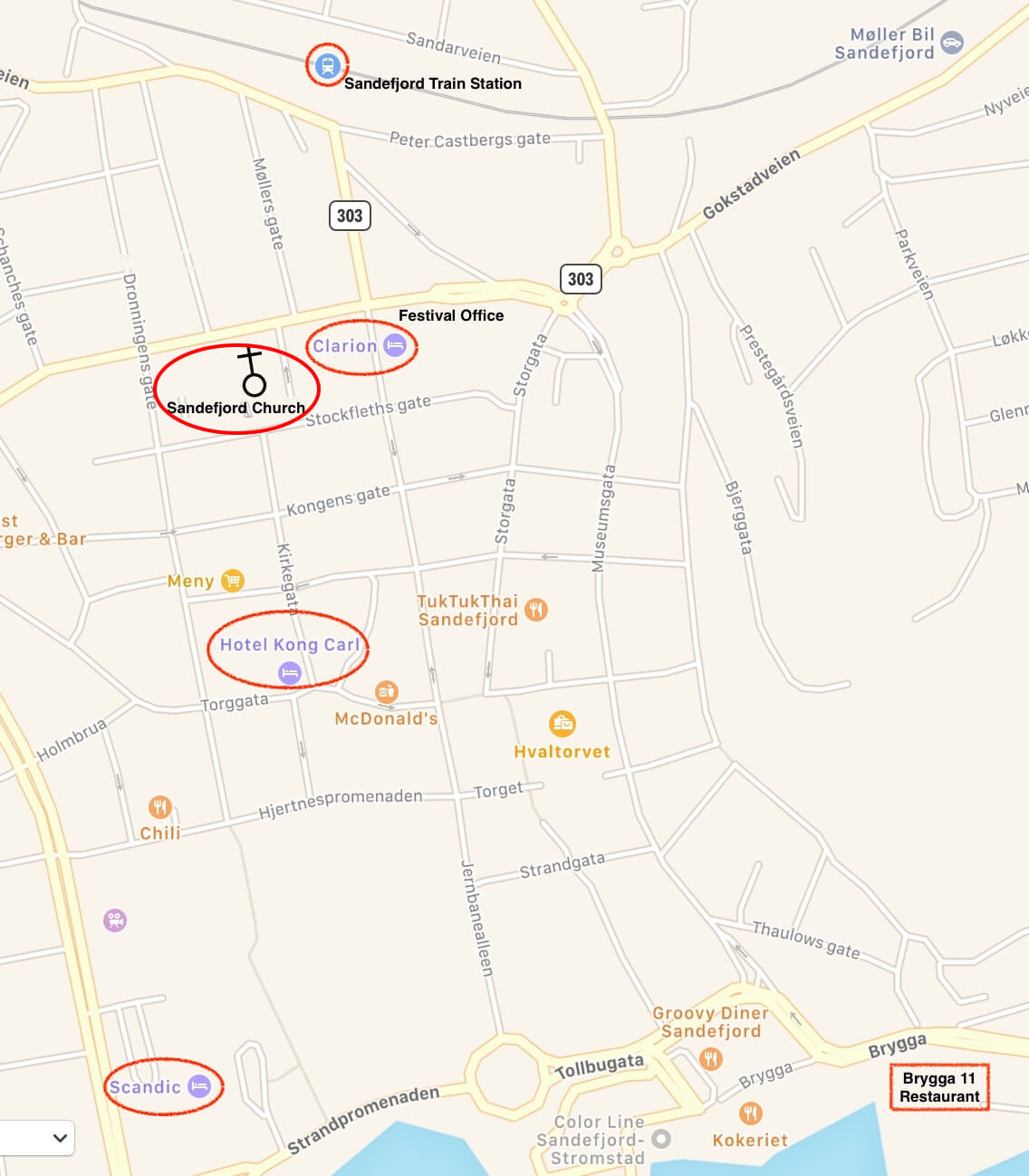 Restaurants i Sandefjord
Sandefjord offers a good selection of restaurantsWorth singling out in particular is the renowned local chef, Geir Skeie, winner of Bocuse d'Or 2009, and his seafood restaurant Brygga 11.. Smak fra alle verdenshjørner tilbys i byens restaurantmangfold.
Future Festival Dates

2022: 5.-8. juli
2023: 4.-7. juli
2024: 2.-5. juli
2025: 1.-4. juli
Festival Office
I 2022 holder festivalkontoret på Hotel Atlantic åpent fra søndag 3. juli og gjennom hele festivalen på Hotel Atlantic. Kom innom når som helst, om du har noen spørsmål. Her kan du også kjøpe billetter.
Supporters
Festivalen mottar i dag finansiell støtte fra Norsk kulturråd, Vestfold og Telemark fylkeskommune, Sandefjord kommune, Anders Jahres Humanitære Stiftelse,Sparebankstiftelsen DNB, Sparebank 1 Stiftelsen BV og flere private sponsorer
Organisation
Fjord Classics was founded in 2017, then as a part of the Vestfold Festival. In 2018 the festival was established as an independent organisation. Norwegian company registration number: 920572367.
Board
Chair: Svein Eriksen
Deputy Chair: Sean Lewis
Board Members: Jeanette Fagerli-Quaino, Birgit Hoem, Filip Skogstad
Welcome to the 2022-festival in beautiful Sandefjord from 5. til 8. juli. Four new days with unforgettable music experiences.